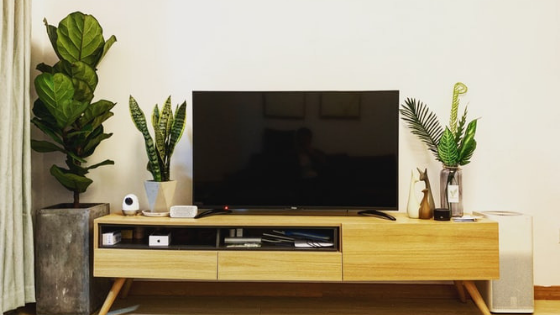 When you're trying to step up the entertainment at your apartment, you'll want to have the newest, best television out there. In this post, we'll discuss five TVs that can really boost your entertainment capabilities.
LG 65" Class OLED C9 Series 4K
With a 65-inch display and impeccable picture quality, the LG 65" Class OLED C9 Series 4K TV does not disappoint. Although it's a little on the expensive end, the picture quality really doesn't get any better. This TV features an OLED display, meaning there's more light in the frame, bringing out the rich colors and deep blacks with precision.
Samsung Q90R QLED
The new 2019 Samsung Q90R QLED TV features wide viewing angles and unmatched picture quality. In fact, many people believe that this TV surpasses OLED displays in terms of picture quality. This QLED TV features vivid colors and delivers deep blacks while still showing shadows correctly. Coming in the 65-inch or 75-inch model, this television can truly take your entertainment capabilities to the next level. And with its comprehensive smart platform, this is the only entertainment component you need.
TCL 6 Series
If you're looking for the best bang for your buck, then the TCL 6 Series TV might be the one for you. Roku rolled out this TV last year, but it still offers the best picture quality for the price. The TCL 6 Series features very deep blacks, great brightness, and rich contrast. And when it comes to its Smart interface, Roku offers one of the best on the market. It's simple interface and extensive streaming app support make enjoying your favorite shows and movies a breeze.
Vizio P-Series Quantum
If you can't swing the hefty price of an OLED TV, then the Vizio P-Series Quantum TV is a great alternative. While only costing around $1,300, the P-Series Quantum offers a very bight, high-quality HDR picture, and still works great in bright rooms. Given the low price of this TV, many experts see it as a steal. And with its superb picture quality, it almost competes with OLED models.
Sony XBR-65A9G 65 Inch TV
This MASTER Series BRAVIA OLED TV is blowing people away. Coming in the 55-inch, 65-inch, or 77-inch model, this TV might have the best picture quality on the market. Featuring the Triluminos display, you can experience a broader spectrum of red, green, and blue for authentic imaging.
If you need a large living room to make your entertainment dreams come true, then check out our Greensboro, NC apartments at Woodland Park today!