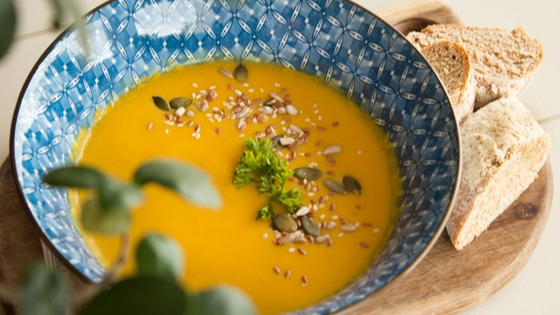 If you're like most people, one of your favorite things about fall is that you get to enjoy a variety of harvest-based soups. Following are just five of the many fall soups you can quickly whip up in your kitchen.
Cream of Pumpkin Soup
Puree pumpkin, milk and your choice of spices to create this delicious and nutritious autumn soup. Spices traditionally used in desserts containing pumpkin, such as nutmeg, cloves, and cinnamon, give this soup nuanced sweet accents. If you prefer savory soup, sprinkle in sage and thyme instead.
Potato and Bacon Soup
Combine potato chunks, carrots, minced garlic, chopped green onions, cream of celery soup and carrots in a saucepan and add chicken broth. Simmer until you can put a fork through the potatoes and carrots, and then stir in enough sour cream to create a thick consistency. Sprinkle bacon bits over the top of the soup just prior to serving.
Root Vegetable Soup
You can make this soup with whatever root vegetables you happen to have on hand—many are in season during autumn, so you'll have plenty to choose from. Choices include carrots, potatoes, turnips, parsnips, radishes, beets, yams, and rutabagas. Simmer them slowly on the stove in a saucepan with vegetable broth or water and add herbs and spices to taste. You can add meat or simply enjoy the soup as a vegetarian dish.
Apple and Carrot Soup
Apples aren't usually considered to be soup ingredients, but if you use varieties that cook up soft, such as MacIntosh apples, they can be very good in soups—and few things say fall more than a delicious apple dish. Simmer apple chunks, diced carrots, and chopped onion in water on the stove until the ingredients are soft. Stir in a little curry powder, celery salt, and extra-virgin olive oil.
Butternut Squash Soup
Simmer chunks of roasted butternut squash in vegetable stock with carrots, onions, minced garlic, sage, thyme, and cinnamon until the mixture has reached a soft consistency. Puree and slowly reheat the soup before serving.
You'll love having a beautiful apartment kitchen where you can cook these recipes this fall! Please call us today to schedule a tour of our apartments in Greensboro, and find out why else residents of our community love living here.