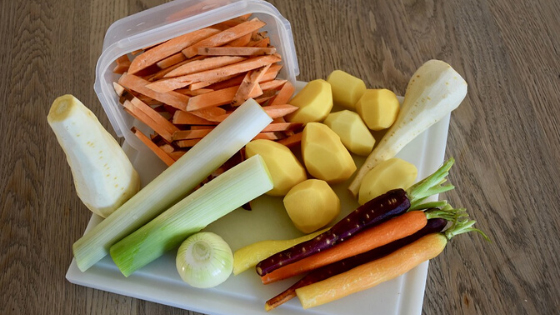 While our Greensboro, NC apartments are still enduring the chilly weather that comes with winter, we thought this would be a great time to explore the fresh produce that's best this time of year and talk about some ways to get the most out of these fruits and veggies.
1. Make Soup
Soup is an undeniably great way to get your fill of fresh vegetables when cold weather strikes. Broccoli pairs well with potatoes, while winter squash works wonders when accompanied by pumpkin. Here are a few other winter-season vegetables that do great in soups and stews:
Cabbage
Carrots
Celery
Parsnips
Turnips
2. Create a Colorful Salad
Winter skies might get dreary sometimes, but the food on your plate can be just as bright and colorful this season as it is when strawberries are at their finest. Take beets, for example. These brilliantly colored root vegetables are a bit sweet and can be eaten either raw or cooked. They play well with goat cheese, walnuts, and a little balsamic vinaigrette. Pears are another option that'll make salad plates happy this time of year. Substitute them in any salad recipe that calls for strawberries for a seasonal sensation that's fit for these pre-spring months.
3. Indulge in Side Dishes
Nobody said you're stuck eating plain baked potatoes for the rest of your existence. Sure, your entree might be the star of the show, but veggies can play a great supporting role. Brussels sprouts are in season right now, and they're not as hard to make as you might think. They're a great accompaniment to most types of protein, including tofu dishes for people who don't eat meat. Mushrooms are another fan favorite during the colder months. These versatile tidbits can be sauteed, stuffed, fried or grilled. You'll have an endless assortment of things you can do with them once you start digging around for your favorite recipes.
4. Don't Forget the Dip
Shallots, onions, horseradish, and garlic are all at their best right now, so take advantage of their flavorful profiles and make some homemade condiments.
If you're looking for a beautiful Greensboro apartment where you'll be glad to come home, we welcome you to Woodland Park. Stop by soon so we can show you around!