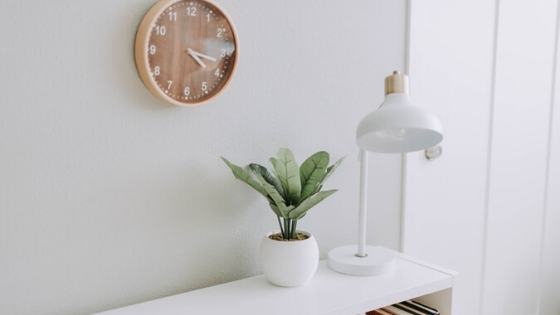 If you're ready to make the transition to modern interior decor, your Greensboro, NC apartment home at Woodland Park is the perfect backdrop for stunning modern decor. A modern style does not have to be hard and cold. Today's modern interiors match high-functioning appliances with furnishings that are easy to clean and feature a monochromatic color scheme.
Minimize the Fuss and Fluff
Actually, minimalist interiors are the main feature of the modernist decor movement. The style is a takeoff from the Industrial or Machine Age styles that were prominent in the 1920s to 1950s. You can achieve this look with uncluttered spaces, simple furnishings, and clean (or straight) lines. Scandinavian style furniture is a good example of clean lines and the warm tones of birch, spruce, or pine can prevent your home from looking stark or clinical.
Celebrate Natural Light
Another way to add warmth to modern interiors is to keep your windows unadorned, allowing plenty of bright sunshine or subdued dusk-light to enter into your home. Lighting should include bright, overhead, or general lighting, along with accent lighting from tracks, recessed lighting, pendant, or wall lighting. If you prefer window coverings, keep it simple with sheer panels or light-filtering blinds without drapes.
Low, Horizontal Furniture
Select furnishings with clean lines and without carved or shaped legs. Upholstered fabrics should be comfortable, but without the extra fluff that is common in contemporary or cottage style furnishings. Another key to modern furnishings is the emphasis on function as opposed to flair. That doesn't mean modern furniture is unattractive. Instead, the patterns and colors are simple, and any excessive decoration is left out.
A Neutral Color Palette
Finally, you want to keep your color palette simple with neutral tones and sometimes just a splash of color. Black and white, orange and gray, and soft greens and gray are some examples of modern color palettes. Your modern rooms will also feature plenty of reflective surfaces such as steel, chrome, or glass.
Your apartment home at Woodland Park in Greensboro, NC is the perfect setting to experiment with modern interior design styles. We are just minutes away from upscale dining and great shopping. Contact us today for a tour of our modern, sophisticated apartments in our pet-friendly community.