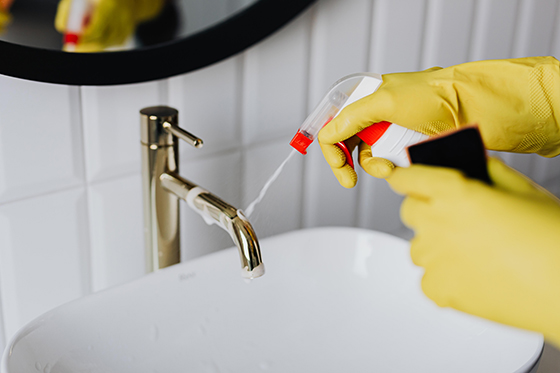 Living in an apartment in Greensboro is typically a great experience. Sometimes, we have to face unexpected challenges, and right now, that challenge is COVID-19. Everyone is experiencing the pandemic in their own way, so we want to take a minute and talk about CDC-approved tips for sanitizing your apartment. These tips can help you directly combat the spread of the virus.
Cleaning vs Disinfecting
You already know how to clean your apartment. Decluttering, dusting and throwing out the trash are important. Disinfecting is specifically about fighting pathogens. In regards to COVID-19, it's about killing a particular virus. With that in mind, disinfecting works best after cleaning. Clutter is an enemy to the process, so step one is to pick up the place a bit.
Use Powerful Cleaners
There are three weapons in your arsenal. The first is soap and water. This combo is recommended by the CDC for reducing the spread of coronavirus. In a lot of cases, soap and water work better than chemical disinfectants. That said, bleach and disinfectant sprays are your other two weapons. You'll be using all three.
The Process
You start with cleaning. After that, you want to use soap and water on every surface and object that can safely handle them (which obviously does not include your TV remote). When that's done (including drying), you can use your disinfecting spray on things that aren't water safe. Likewise, you want to use bleach on any surface that can be safely exposed to it. This gives you a multi-pronged attack on everything that could be sustaining the virus, and you'll have a properly disinfected apartment.
To help you be thorough, here's a quick checklist of objects that need to be disinfected:
Mobile devices
Remotes
Doorknobs, toilet handles and light switches
Laundry (your washer/dryer are sufficient)
Countertops
Soft surfaces (carpets, drapes, etc)
Cleaning and disinfecting are powerful ways to help protect you from the spread of COVID-19. If you have other concerns about apartment living during the pandemic, give us a call and contact us to learn more about our available apartment homes.